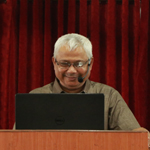 'They saw no one but JESUS' by Rev. Susanta Patro (27th January, 2019)
Rev. Susanta Patro preached from Matthew 17:1-8. The theme of his message was 'They saw no one but JESUS'. This passage talks about the Transfiguration of Jesus Christ. There are 3 things we see here:
a) Jesus Transfigured into His Glory (v.1-3): We see Peter, James and John had interest, comprehension and maturity; they were matured enough to witness something like this; same with Moses and Elijah; The challenge for a believer today is to live for His Glory.
b) Tabernacle for His Glory (v.4-5): Tabernacle is the place of Dwelling; it reveals God's pattern of Worship; it is an abode of interaction with God.
c) Transformed by His Glory (v.6-8): When He touches our lives, when we surrender everything at His feet, we are truly transformed and make an impact in the lives of others.