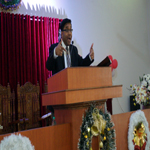 'The Perfect Storm' by Dr. Tanmay Pramanik (24th June, 2018)
Dr. Tanmay Pramanik preached from Mark 4:35-41. His theme was 'The Perfect Storm'. This text gives us 5 Spiritual Truths for modern day disciples:
a). Truth #1 = His plan was puzzling.
b). Truth #2 = His plan often includes problems.
c). Truth #3 = His plan comes with His Presence. Do not ever confuse God's silence with His compassion.
d). Truth #4 = His plan demonstrates His Power. Whenever storms in life comes, the Savior shows up.
e). Truth #5 = His plan always has a purpose. The presence of fear is the absence of faith.
The 6 life lessons that we learn here:
1) Christ cares for you and helps you in crisis; 2) Christ is in control of everything in our life; 3) We all must go through storms to get to the other side; 4) If you are going through a storm, you better have Christ in your boat; 5) Make sure that Jesus is still in the ship; 6) Jesus won't always calm the storm but He will calm you.