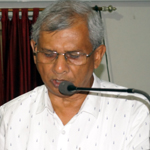 'The Mission of the Church' by Mr. Paresh Das (12th May, 2019)
Mr. Paresh Das preached on the theme 'The Mission of the Church' from 2 Kings 7:1-11 and Mark 16:15.
As a Church, are we really bearing the burden of the Cross? Are we sharing the Gospel of Christ to a lost and dying world? Are we caring for those who are new to the faith?
Remember, the Church is not a pleasure boat, it is a life boat for souls to be saved to the Kingdom of God.