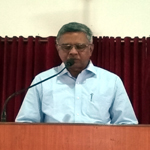 "The Kingdom of God" by Mr. J. Manna Whitson (23rd April, 2017)
Mr. Manna Whitson spoke from Acts 1:1-11. His theme was 'Kingdom of God'. 3 reasons why the study on 'The Kingdom' is important!
a). It helps us to go beyond our present circumstances and problems.
b). It is the ultimate destination prepared for us (II Peter 1:3-4)
c). It is more relevant now as we are in the end-times.
The message of the Kingdom is very significant as the coming of our Lord is very near. Take a listen.