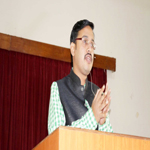 "The Heart of Man" by Mr. Sandeep Kumar (9th July, 2017)
Mr. Sandeep Kumar preached from the book of Romans 1:18-25. His theme was 'The Heart of Man'. Paul reminds the Christians in Rome that unless they understand the heart of man; they will never understand the justification by Faith.
He leads them through 4 processes:
a). Rejection
b). Separation
c). Domination
d). Condemnation.
How is your Relationship with Jesus today! Choose Jesus; Choose Eternal Life with Him.