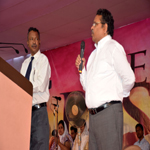 "The Glories of Christ" by Mr. Richard Masih (Easter Odia), 05-04-15
In his last message of Passion Week – 15, bro. Masih spoke on the glories of Christ.
1. Glory of His Resurrection.
2. Glory of His Ascension.
3. Glory of His Exaltation.
4. Glory of His Second coming.
May God bless you and use you mightily for the expansion of His Kingdom.