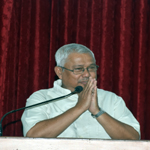 'The feeling of Gethsemane' by Rev. Susanta Patra, (Maundy Thursday), 18th April, 2019
Rev. Susanta Patra preached on the theme 'The feeling of Gethsemane' from Matthew 26:36-46 on Maundy Thursday Special Worship. Gethsemane is derived from 2 Hebrew words, gat means a place for pressing oil, shamanim means oils.
4 experiences Jesus went through in the garden: a. Struggles of Jesus: The 1st picture we see here: From His own to loneliness; Captured/tested by the enemy;
b. Surrendering of Jesus: Kiss of deception; In the hand of the sinners; Why he surrendered? He was the Sacrificed Lamb of God; He was denied & rejected by the people.
c. Strengthening of Jesus: Lk 22:43; You can accept the strength sent by God/reject Him. There is a plan and a purpose behind every struggle you go through; He wants to strengthen you; Taking the cup of sin and suffering.
d. Sadness of Jesus: There is God's wrath; God's forgiveness; God's Way of Salvation. Jesus went through this sadness just for you and me.
Have we surrendered to God today completely/are we still struggling? Time to ponder.