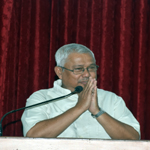 'The Blood of Jesus' by Rev. Susanta Patra, (Good Friday, Odia Service), 19th April, 2019
Rev. Susanta Patra preached on the theme 'The Blood of Jesus Christ' from Ephesians 1:7-10. Let us remember one thing on this very day; when God sees us today; when He answers our prayers; when He blesses us, When He gives peace in our life, He sees us through His Blood.
When we talk about Blood; we need to understand these 3 things about the Blood: 1) The Identity of the Blood; 2) The Reaction of the Blood; 3) The Talent of the Blood.
1) Identity of the Blood: When we talk on this; we need to consider 3 things: a) There is life in the Blood; That is why Jesus came to give us abundant life. b) There is forgiveness in the Blood of Christ; c) Blood establishes relationship with God. I was His enemy because of sin; but the Blood of Jesus has set us right with God. Here we remember the prodigal son; d) The blood cleanses us of every sin because He is a just God; 1 John 1:9.
2) Reaction of the Blood: There are 3 pictures we see in this: a) It was unblemished, spotless without any defect (1 Peter 1:19); b) That blood was sinless. Jesus said, I am the Way, Truth and Life; His blood can wash us from any sins; c) The Blood of Jesus is precious.
3) Talent of the Blood: There is tremendous power in the blood of Jesus. Claim the Blood of Christ this Good Friday. There are 3 bondages every person is bound to…Sin, Satan and from self-righteousness. Only the blood has freed us from this; it has made us humble. The blood forgives us; The blood has given us the assurance of Salvation today; The blood heals us of every disease.
If God is for us, then His blood is for us; then we have healing, we have forgiveness, we have freedom in His blood. There is power, wonder working power in the Blood of the Lamb.