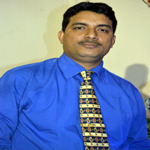 'The Blessings of Obedient Life' by Rev. B.N. Satpathy (4th February, 2018)
Rev. B.N. Satpathy continued on his series from the book of Deuteronomy. This week, he preached from Deuteronomy 11:8-15. His theme was 'The Blessings of an Obedient Life'. As this passage suggests, there are 3 Promises of Blessing for the Obedient: They are
1). One who is obedient to God's Word, will have supernatural strength to go through life's difficult path.
2). He will be blessed and satisfied with his income. He will be contend with what he has.
3). He will be blessed with success. If you obey Him fully, success will follow you and people will acknowledge that blessed person.