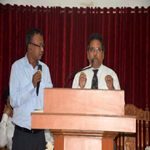 "The 3 Commandments" by Rev. Subhash Dongerdive (Maundy Thursday Service), 13th April, 2017
Rev. Subhash Dongerdive spoke from John 13:1-15. His theme was '3 Commandments of Jesus', he gave to His disciples and to us.
a). Wash each other's feet (Do Service to people in love & unity)
b). Do this in Remembrance of Me as I am the Passover Lamb
c). Love one another as I have loved you.
You need to obey His Commands if you want to be a leader in God's Kingdom.