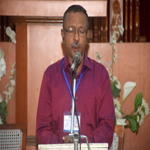 "Stop the attitude of War" by Rev. Ayub Chhinchani (30th July, 2017)
Rev. Ayub Chhinchani continued on his series from the book of James. Today, he concentrated on the 4th chapter of James; v.1-12. His theme was 'Stop the attitude of War'.
There are 3 kinds of War Christians engage themselves in. They are:
a). War with each other.
b) War with ourselves
c). War with God (Rebellion against God). There are basically 3 enemies here; they are the world, the flesh and the devil.
If there is a war inside of you; then submit to God today.