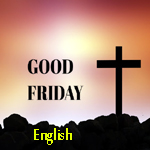 'Significance of Christ's Death' by Rev. Dr. Ayub Chhinchani (Good Friday, English), 10-04-2020
Due to COVID – 19, we are lock down in our homes. But, Praise God that we can worship online in our homes. The Good Friday English Service was presided by Rev. Songram Keshari Singh and we had our Pastor Rev. Dr. Ayub Chhinchani sharing God's Word.
The Scripture portion is taken from Romans 3:23-26 and the theme is 'Significance of the Death of Christ'. Please let us remember that His death was pre-determined in eternity. There are 3 things we see in the Death of Christ on the Cross:
1) To turn away God's wrath.
2) To demonstrate God's justice. Our sin had to be punished.
3) To justify us freely by His Grace.
Stay blessed in God's Word.