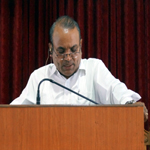 'Setting Right Priority' by Mr. Khristi Gershombhai, 13th May, 2018
Mr. Khristi Gershombhai preached from Matthew 22:34-40. His theme was 'Setting Right Priority'. Of the 2 Commandments that Jesus gave in the New Testament, the preacher laid stress on the 2nd Commandment; 'to love your neighbor as yourself'. We don't have to find out who is our neighbor, but we need to see who needs our support, who needs our help!!!
Please let us remember, we cannot love God and not love others. Our actions should demonstrate our love for others. We need to have compassion for the lost.
Like Mother Teresa said, we too need to draw the line of our family larger everyday. Our circle needs to enlarge. We need to glorify God everyday through our life.