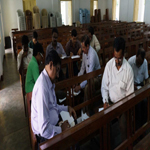 Seminar on Expository Preaching – II (13-09-16)
Seminar on Expository Preaching – II (13-09-16)
A Seminar on Expository Preaching was held in the Church on 13th September, 2016. The Program commenced @ 10 am with soulful Worship by the Choir. The Resource person was Rev. Bichitra 
Nanda Satpathy, Associate Pastor, Church of Christ (Union Church), Bhubaneswar. The 1st part of this Seminar was held on February 12th this year. Today's meeting was attended by nearly 40 people. Rev. Satpathy continued from where he left in the last Seminar held early this year. He gave a brief recap of what we had covered then and he started the session today with a Word of Prayer. In the 1st Session; he spoke on the basic mannerisms of Pulpit Preaching; then he laid emphasis on the Parts of the Sermon. It should have a Introduction; body and a conclusion. Then there was a short break of 10 minutes for tea.
After this interval; he taught on Transitions, i.e. to jump from one point to another in a sermon. Then he led stress on the Application part of the sermon. Does it have any implication on my life or not! Then he explained the need for apt illustrations to your sermon to make it more lively to the audience. To relate your point clearly to the audience. Then he gave tips on finishing well; to have a real good conclusion and not to neglect it and abruptly end your sermon.
Then there was a fellowship lunch and after the lunch interval; Rev. Satpathy gave a brief insight into Audience Analysis and also the dos and donts of a really good Preacher. He also explained the need for Preaching in today's world and why it necessary as per the Word of God. He ended with tools for imagi
native preaching and why it is essential too. After this, there was a short group discussion among those divided into various groups. Different Scripture portions were given to the various groups and they were asked to expound upon it. The purpose was to exercise upon God's Word and what it says for us in today's context. One group leader was selected and he came forward and gave a 5-minute message. Truly, it was a wonderful day of learning for those who were present. We Praise God for this Blessed time of learning God's Word. We thank Rev. B.N. Satpathy for conducting this Seminar. God bless each of us and use us mightily for His glory in the days to come.
---