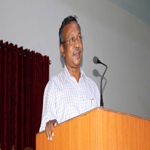 "Say NO to Compromise" by Rev. Ayub Chhinchani (19th February, 2017)
Rev. Ayub Chhinchani spoke from Daniel 1:1-8. His theme was "Say NO to Compromise".
The 4 Hebrew youths had 4 problems at hand that day. They had a…
a) New Home
b) New Knowledge
c) New Diet
d) New Names.
Inspite of all the hurdles, they worshiped God and never Compromised with the world. Are we living a life where we can say, No turning back on Christ!