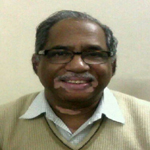 "Sacrifice of Christ" by Mr. Richard Masih (Good Friday English), 03-04-15
This morning, Bro. Masih spoke on the Sacrifice of Christ. The Bible says clearly, without the shedding of blood, there is no remission of sins.
There are five things to be noted when we look into the Sacrificial death of JESUS on the Cross.
1. It was an atoning sacrifice for our sins.
2. It was a substitutionary sacrifice.
3. It was the sacrifice for the Son of God himself.
4. It was a willing sacrifice.
5. It was a once for all sacrifice.