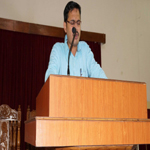 "Running for the Prize"by Mr. Sandeep Kumar (Odia – II Service), 31-05-15
Mr. Sandeep spoke from Philippians 3:12-14 this evening. The title of the message was "Running for the Prize". Three things are notable in the life of Apostle Paul. That should be the basic for every believer in Christ.
a). Paul's Examination.
b). Paul's Exertion.
c). Paul's Expectation.
Are we striving towards Spiritual maturity? We need to retrospect our lives!