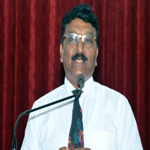 'Resurrection of Christ' by Mr. Jenny Christopher, (Resurrection Sunday), English, 1st April, 2018
Mr. Jenny Christopher preached from 1 Corinthians 15:20-28. His theme was based on the Resurrection. 3 things we need to know about Christ's Resurrection. They are
1). Christ is Risen. As Christ is risen from the dead, all those who believe on Him will rise from the dead because the last enemy i.e. Death was defeated and killed forever.
2). Christ is Reigning. He is Reigning and the Bible says, His Kingdom shall never end.
3). Christ is Returning. He is coming back soon with glory and power. Today, are you truly prepared to meet Jesus Christ! If not, come to Him before it is too late. The Decision has to be made right here.