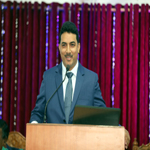 'Recognizing False Prophets & handling them Biblically' by Rev. B.N. Satpathy (15th July, 2018)
Rev. B.N. Satpathy preached from Deuteronomy 13:1-8. His theme was 'Recognizing False Prophets and dealing with them Biblically'. There are 4 Specific tests to recognize and deal with them:
a). Consider their accuracy of Prophecy. See if it is fulfilled!
b). Consider the teachings of Jesus. You can't bypass Jesus and claim to know God.
c). Consider their teaching of the Gospel. Do they preach the Gospel truth!
d). Consider their character. What type of a person they are!
How to deal with them!!!
i). Test their Spirits. Is it from God!
ii). Don't listen to them unless you expose/correct them in the light of the Scripture.
iii). Don't entertain/associate with them.
Stay deeply rooted in the Word of God.