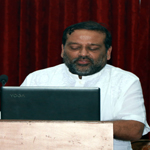 'Questions to ponder this Palm Sunday' by Rev. Dr. J.N. Manokaran, (Palm Sunday – Odia), 14th April, 2019
Rev. Dr. J.N. Manokaran preached on the theme 'Questions to ponder this Palm Sunday' from Luke 19:28-48. The 7 Questions/thoughts we need ask ourselves today???
1) Are we prepared for Eternity? Are we living in Christ! Do we have the assurance that if we die tonight, we will go to Heaven?
2) Am I a student of the Word of God? Do I really lay stress on God's Word. Thy Word is truth and the Scriptures cannot be broken.
3) What is the destination of my procession? We are all pilgrims in progress. Are we on the path of Righteousness or we are like sheep gone astray?
4) Do I worship the Lord? Do I proclaim the Lord? Is my life a witness for the Lord? Do people around me see Jesus in my life?
5) Do I understand the burden and concern of the Lord for the lost? What hurts the heart of God should hurt us too.
6) How is my Prayer life today? Is it seeking God's will or do I pray selfishly?
7) Do I enjoy intimate fellowship with God? Am I a disciple of the Lord Jesus Christ? Am I a needy person seeking His Grace always? Do I have faith as a little child?
It's time to reflect on these thoughts this Passion Week. Realign your life (if it is not on track) to spend Eternity with HIM…