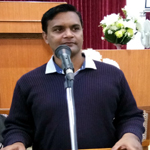 'Prayers for Children' by Evg. Ranjit Singh (Prayer Week – Day 3) 3rd July, 2019
Evg. Ranjit Singh preached on the theme 'Sincere Prayers for children' from Matthew 18:1-6 and Mark 10:13-16.
Jesus always loved children and wanted his followers to have the heart of a child. Do we truly guide our precious little ones in the way of the Lord from their tender years? Time to introspect!