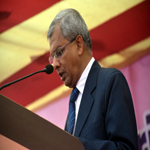 'Prayer of FAITH' by Mr. Paresh K. Das, (Prayer Week, Day – 5), 12-10-18
Mr. Paresh Das preached from Joshua 6:12-16 and verse 20. His theme was 'Prayer of FAITH'. From this passage we can clearly say that we serve a God of miracles. Nothing is impossible for Him.
When we trust God fully, the impossible happens. For His Word says, I am with you. I will never leave you or forsake. Let us bear this mind that what is impossible with man is possible with God.