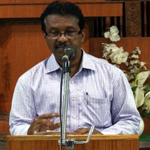 'Prayer of Elijah' by Mr. Santanu Kumar Rout (22nd June, 2018), Prayer Week (Day – 5)
Mr. Santanu Rout preached from 1 Kings 18:36,37. His theme was based on the Prayer of Elijah. There are 3 things we need to understand:
1) Prayer is not about actions or words, it is about your attitude and worship.
2) Prayer is something that comes from the depths of the soul and it should be prayed with a clean heart.
3) Elijah's Prayer was answered immediately because he prayed according to the will of God.
God will answer your prayer when you pray according to His will as it will glorify Him.