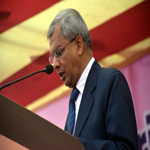 'Prayer of a Righteous' by Mr. Paresh Das, (Prayer Week, Day – 5), 5th April, 2019
Mr. Paresh Kumar Das preached on the 5th day of the Prayer Week from James 5:16. The theme of his message was 'Prayer of a Righteous avails much'. How is your prayer life today? Do you truly beleive that the Lord will answer your prayers? Or are you trusting on man for your prayers to be answered?
The Bible says, as saved people in the Lord we are priests and we can pray and cry out to Him directly. We don't have to go through a mediator anymore for having our prayers answered.
We need our heart cleansed and we need to pray in faith for God to do wonders through us. Prayer brings God on the scene. Are you matured enough in Christ? Is your faith growing in the Lord? Watch out and pray.