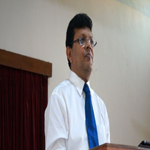 'Prayer' by Mr. George Philip (11th March, 2018)
Mr. George Philip preached from Matthew 6:1-15. His theme was 'Prayer'. There are 3 Fundamental practices Jesus has mentioned in Mathtew chapter 6. 1st one is Christian 'Giving', Christian 'Praying' and Christian 'Fasting'. In this message, he concentrated on Prayer.
It is the key to everything for a Believer in Christ. God sees our heart while we Pray. Our tone, our language or our position doesn't matter to Him. What matters is how we pray with a grateful heart! When we earnestly pray for something, God gives us peace that passes all understanding.