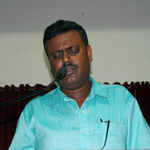 'Pray for Spiritual healing' by Rev. Sandeep Giri (Prayer Week, Day – 5), 10-01-2020
Rev. Sandeep Kumar Giri preached on the theme 'Praying for Spritual healing' from James 5:13-15. Many a times in trouble we tend to pray for our physical healing; but we need to make sure we are saved. We need our spiritual healing and also pray for others.
Take a listen. Be blessed.