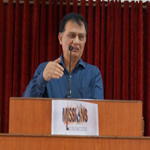 'Power of the Holy Spirit' by Rev. Richard Howell (9th June, 2019)
Rev. Dr. Richard Howell spoke on the theme 'The Power of the Holy Spirit' from Acts 2:14-21. Great things happen when God gives you a vision and you are diligent in obeying it!
We are not orphaned but we are given the Holy Spirit. Who can stand in the most holy presence of God without the power of the Holy spirit?
3 Things that happen when filled with the Holy Spirit: Prophecy; Have a Vision; Love.