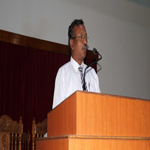 'Power of Prayer' by Rev. Dr. Ayub Chhinchani (18th June, 2018), Prayer Week (Day – 1)
Rev. Dr. Ayub Chhinchani preached from Matthew 18:18. His theme was 'Power of Prayer'. The early church believed on the power of prayer. The place where they prayed was shaken. They used to pray in one accord.
We need to understand that prayer changes things. As a believer, as a church, we need to spend more time at the feet of the Lord. Remember, Prayer brings God on the scene.
Do we understand the secret place in our life! That is the place where we pray to our Father.