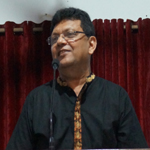 'Power of Intercessory Prayer' by Mr. George Philip (11th November, 2018)
Mr. George Philip preached from Luke 11:1-13. His theme was 'Power of Intercessory Prayer'. We as believers need to pray for others more. That is when God moves into action. We need to understand the elements of Intercessory Prayer as His follower:
1) See the need of the people. Today, many are perishing into a Christ less Eternity. Are you burdened!
2) We need to have true, willing love for the people around us.
3) It is very important to understand the pain. Intercessory Prayer is our only hope.
4) Have firm faith in God that when we pray to Him with a sincere heart, He will answer our prayers.
5) We need to have shameless audacity. We have to persist and not lose hope.
Today, people who are lost, need a spiritual awakening. They need the Savior. They need a relationship with Him. But, it is our job to pray for them.