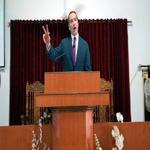 'Paul – the Great Influencer' by Rev. Talbot Davis (12th November, 2017)
Rev. Talbot Davis spoke from 1 Timothy 1:1-2.
He spoke about Paul – the Great Influencer. This man who was persecuting Christians was changed by the power of God. The murderer becomes a missionary; a persecutor becomes a preacher.
Take a listen to this message and let us remember, Jesus can change our lives even if we are in the darkest pit. Give Him your life.