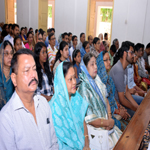 Passion Week – 2018

Passion Week 2018 (25 March – 1 April)
---
Passion Week – What is it?
Passion Week (also called Holy Week) takes place between Palm Sunday and Easter Sunday (Resurrection Sunday). Why is it called "Passion Week"? This name represents the passion with which Jesus willingly went to the cross. He did this to pay for your sins—the sins of all of His people. To study the biblical accounts of Passion Week, read the following chapters: Matthew 21-27; Mark 11-15; Luke 19-23; and John 12-19.
Passion Week is a time we remember the events of Jesus between Palm Sunday and His resurrection. We see the passion Jesus lived and the passion that He died. We can share in Jesus' passion through our worship of Him and in our proclamation of His Gospel.
---
WHAT DO YOU THINK?

 – We have all sinned and deserve God's judgment. God, the Father, sent His only Son to satisfy that judgment for those who believe in Him. Jesus, the creator and eternal Son of God, who lived a sinless life, loves us so much that He died for our sins, taking the punishment that we deserve, was buried, and rose from the dead according to the Bible. If you truly believe and trust this in your heart, receiving Jesus alone as your Savior, declaring, "Jesus is Lord," you will be saved from judgment and spend eternity with God in heaven.
---
Passion Week 2018 commenced with Palm Sunday Service on 25th March, where Rev. B.N. Satpathy and Rev. Songram Singh preached God's Word respectively. In the morning before the English Service, our precious Sunday School children had decorated the church with palm leaves.
During the early week (Monday-Wednesday), we had Special Worship Service in the evening @ 7 pm. On the 1st night, it was Rev. Ayub Chhinchani, followed by Rev. B.N. Satpathy the next day and on Wednesday, we had Rev. Bijoy Kumar Das who shared God's Word.
This year's Passion Week Speaker was Mr. Jenny Christopher from IEM Ministries, Bengaluru. He reached here on 29th March afternoon. He preached from Maundy Thursday evening till the afternoon Service of Resurrection Sunday. You can listen to all the messages preached during Passion Week this year in this section. We specially thank both our choirs (English and Odia) for their wonderful singing during this time. May God continue to bless them and use them for His glory in the days to come. We had massive crowds especially on Thursday night, Good Friday and Easter Services. Please uphold those souls who have heard the Gospel for the first time. May the Holy Spirit speak to their hearts. God bless you all.
Click on the link to relive the precious moments during the Holy Week this year:
---
1). Palm Sunday                        5). Special Women's Meet
2). Monday – Wednesday      6). Holy Saturday Special Service
3). Maundy Thursday             7). Sunrise Service (Easter) 
4). Good Friday                         8). Resurrection Sunday Service
---