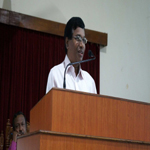 Palm Sunday (English Worship Service) by Rev. Songram Keshari Singh (5th April, 2020)
Let's Watch the Palm Sunday English Worship Service @ 10 am. Rev. Dr. Ayub Chhinchani conducted the Service, while Rev. Songram Keshari Singh preached from God's Word. The theme of his message was 'The King enters into His city' from Matthew 21:1-11.
As we celebrate Palm Sunday this year amidst lock down, let us rejoice in the fact that Jesus is alive and well. Are we sharing about Christ to others? Do we truly acknowledge Him as our Savior? Are you sharing the Light of the Gospel to others? Time to retrospect.