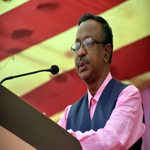 "Overcoming Self-deception" by Rev. Ayub Chhinchani (18th June, 2017)
Rev. Ayub Chhinchani spoke from James 1:19-27. His theme was "How to overcome Self-deception!" There are 3 ways of overcoming it.
a). Receive His Word
b). Practice His Word
c). Sharing His Word with others.
As we stay rooted in His Holy Word, He will give us the Grace to live a deception-free life.