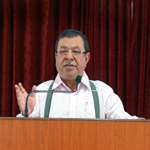 'Our Amazing JESUS' by Rev. P.R. Misra, 17th February, 2019
Rev. P.R. Misra preached from Ephesians 1:18-23. The theme of his message was 'Our Amazing JESUS'. There may be many superhero characters in this world, but there is only Superhero for all of Eternity; His name is Jesus Christ.
Jesus had i) Amazing Miraculous powers; ii) Great Supernatural powers incomparable with anyone; Jesus is our greatest hope and He is the one the world is looking for a Savior. He is going to come back in the clouds and He will rejoice over you with singing.