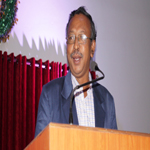 "Matthew's theology on Christmas" by Rev. Ayub Chhinchani (20-12-15)
Rev. Chhinchani spoke from Mathew 2:1-12. His theme was "The Theology of Mathew on Christmas".
The real essence of Christmas is in Keeping Christ in your heart. Listen to this beautiful message on the Theology of Christmas as per Mathew's Gospel.