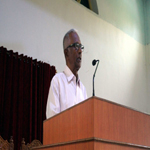 'Lust' by Mr. G.S.P. Dhas (9th December, 2018)
Mr. G.S.P. Dhas preached from 1 Corinthians 6:11-20. His theme was 'Lust'. Lust in its neutral sense just means Intense desire. The origin of Sex is found in Genesis 2:24. It is a natural urge, but not essential for self-preservation. It must be controlled when required.
The Bible clearly says make no provision for the flesh to fulfill its lusts. But, is there any hope for the sexually immoral? Jesus will forgive us if we do not hide our sins and confess with a true repentant heart.