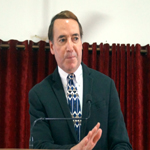 'Love your enemies' by Rev. Talbot Davis, 3rd March, 2019
Rev. Talbot Davis preached from Matthew 5:43-47 & Romans 5:10. The theme of his message was 'Love your enemies'.
It is so easy to love people who get along well with us, but it is very difficult to love people who hate us or speak bad of us.
The only way we can love our enemies is through the Love of God. As we have been reconciled through His Son Jesus Christ; because He paid it all on the Cross.
We need to forgive others. We should ask the Lord to help us as it very much necessary for a Christian. Only the Holy Spirit can help us.