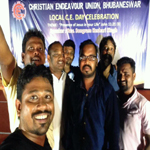 Local C.E. Day Celebration from 28-30 May, 2017
Local C.E. Day Celebration from 28-30 May, 2017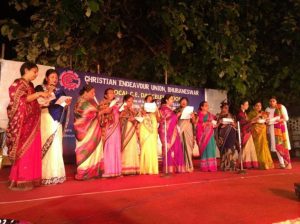 The C.E. Union celebrated the Local CE day from 28-30 May, 2017 here. It started with the Flag Hoisting Ceremony on 28th morning. In the evening, there was a Cultural Program where various wings of the church participated. On 29th and 30th evening, they conducted Special Revival Meeting where God's servant Rev. Songram Keshari Singh was the Guest Speaker.
On the last evening, the CE Union honored some people for their Lifetime Acheivement Award towards their contributions to Union Church (CE Union Bhubaneswar) since 1972. They include:
---
1. Dr Satyananda Patra 
2. Sis Smurtirekha Pradhan 
3. Mr Binoy Kumar Muduli 
4. Dr. B K Pramanik 
---
The Winners of the Prem-Nalini Das Inter zonal Bible quiz competition were awarded too. The winners are:
a) Winner : Mizpha Zone 
b) 1st Runners-Up : Emmaus Zone
c) 2nd Runners-Up : Bethel Zone and Sophia Zone
We thank the C.E. Union for conducting such a wonderful program for 3 days. Please keep them in your Prayers.