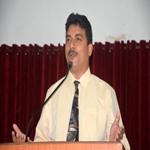 "Living a Life of Holiness – II" by Rev. B.N. Satpathy (4th June, 2017)
Rev. B.N. Satpathy spoke from Nehemiah 13:15-30. His theme was based on 'True Biblical Revival' Series from the life of Nehemiah.
Of the 4 practical reasons for Holy Living, he discussed today specifically on the last 2 factors.
a). Keep the Sabbath Holy
b). Keep your Marriage Holy.
Stay Blessed.