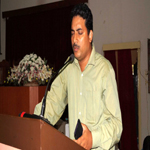 "Living a Life of Holiness – I" by Rev. B.N. Satpathy (21st May, 2017)
Rev. B.N. Satpathy continued on his series on Biblical Revival. Today, he spoke from Nehemiah 13:1-11. His theme was 'Living a life of Holiness/Separation'. He discussed 2 principles today; the next 2 will be dealt on a later date.
The 2 principles laid by Nehemiah for practical Holiness are:
1). Keep your Association Holy
2). Keep the Temple of the Lord Holy.
Let us retrospect where we are today!