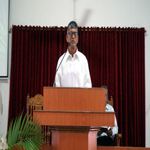 "Live for the King" by Pastor Deepak Sahu (Palm Sunday English), 9th April, 2017
Pastor Deepak Sahu spoke from 2 portions on this Palm Sunday. 1st was from 1 Cor 15:1-4 and 2nd was from 2 Cor 5:21. His theme was 'Live for the King'.
Do you truly believe on the Word of God! That is the foremost thing, to believe fully on the Gospel. If you do so, have you put on the robe of Righteousness! Time to retrospect.