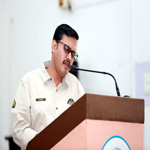 'Lessons on Palm Sunday' by Mr. Sandeep Kumar, (Palm Sunday – English), 14th April, 2019
Er. Sandeep Kumar preached on the theme 'Lessons on Palm Sunday' from John 12:12-19 during this year's Palm Sunday English Service. God wants us to learn 3 things this Palm Sunday: the first thing is so that you would see in your own heart what you are really like?
1) Humility: The humbleness of the spirit and a humble heart. Take a look into your own heart. Have you done that? Have you seen the poverty of your own heart? God wants you to teach humility and you know without a redeemer, you and I can't make it. God alone knows how to humble you without humiliating you; and how to exalt you without flattering you.
2) Spirituality: How to feed and nurture the reality of the soul? I give to you this; you want to know what true spirituality is turn to this Word? You want to know what the real bread of life is. Turn to this Word. I say to you do you know your heavenly father??? Do you know Him? When he changes you and changes others around you, all your relationships are rebuild. All your relationships are transformed.
3) Faith: Faith is not credulity. It's not stupidity. There will come a time in your life when you have to say; I have no sail, I have no rudder. I turn my life completely onto you JESUS. Faith, not credulity; there's a grand designer; there's a grand weaver.
Humility, Spirituality and Faith; that's the picture for a nation; that's the picture for an individual.