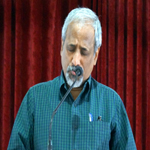 'Lessons on FAITH' by Mr. Cherian Thomas, (10th February, 2019)
Mr. Cherian Thomas preached on the theme 'Lessons on FAITH' from Hebrews 11:23-29. This chapter is known as the Hall of Fame of Faith. When we reflect on the life journey of Moses; we see 4 things:
1) He chose his identity: He refused to be known as the son of Pharaoh's daughter. He chose to serve. Today, whom do we identify with?
2) He chose to say no to SIN. He was willing to endure hardships; to sacrifice a life of comfort rather than falling into sin's trap.
3) His life was mixed with bold decisions. It means giving up on our smaller plans to see God's greater plans to come through.
4) Sometimes, God asks us to do some insignificant things to fulfill some of His greatest accomplishments. Moses lived his faith boldly.