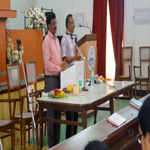 'Lessons from Abigail's life' by Mr. Jenny Christopher (Special Women's Meet), Passion Week, 31st March, 2018
Mr. Jenny Christopher preached from 1 Samuel (entire chapter) on this Special meeting for the ladies. He spoke on Abigail's character from this passage. God has placed few good characters and few bad characters and we can learn something from them.
In this passage, we need to look at few lessons from Abigail's character.
1). Try to avoid the conflict. She did them beautifully in her life.
2). She played the role of a help mate. She prevented the bloodshed that could have taken place. Your kind act, forgiving spirit can set your family right.
3). Her wise act changed her situation into a blessing. Remember to trust in God to change the adverse situation in your life into a blessing.
Today, whatever is your situation, act wisely and lean completely on God.