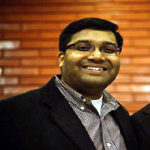 'Leadership lessons from Joshua' by Dr. Tanmay Pramanik, (31st March, 2019)
Dr. Tanmay Pramanik preached on the theme 'Leadership lessons from Joshua' from the Old Testament passage taken from Joshua 1:1-9. What is your Jordan river? What barriers are you facing this morning? What is God asking you to take your leap of faith today? Symbolically, Jordan represents decision making. 'Your greatest extremity is God's grandest opportunity'.
We will see 5 leadership lessons from Joshua's life that can be applied to any disciples life:
1) Submit to the purposes of God.
2) Seize the promises of God.
3) Stand on the Precepts of God: Talk about it; meditate on it; apply/translate it in your life.
4) Soak in the Presence of God.
5) Stay on point with GOD.
Friends, we are prone to compromise and some of us even procrastinate in order to avoid commitment. There are four-fold challenges Joshua gives to the people of Israel. It is the same for us even today.
i) Fear the Lord devotedly.
ii) Serve the Lord exclusively.
iii) Throw away idols totally.
iv) Choose whom you will serve unreservedly.
Whom you will serve is an urgent imperative. Remember, Spiritual indecision leads to disorientation. Choose Christ and live for HIM.