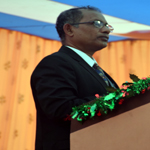 'Knowing Jesus truly' by Rev. Finny George, (13th January, 2019)
Rev. Finny George preached from Colossians 1:26-27. The theme of his message was 'Knowing Jesus Truly'. When you know Jesus really well, you will understand what HE means to us today! 4 things we see from this passage:
a) He has authority over everything. He is the image of the invisible God, the first born over all creation (Col 1:15).
b) He came to this world to give His life as a ransom for many; He came to save and reconcile us (Col 1:19).
c) Christ is the head of the Church. He is there to direct your paths (Col 2:19).
d) We are not going to be here on earth forever. Set your minds on things above as He is our Blessed Hope (Col 3:2).
If you know Him, make Jesus known to the world around you.