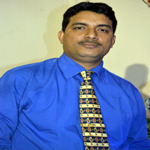 'King Hezekiah's Prayer' by Rev. B.N. Satpathy (23rd June, 2018), Prayer Week Service (Day – 6)
Rev. B.N. Satpathy preached from 2 Kings 19:14-19. His theme was 'King Hezekiah's Prayer'. For a Christian, Prayer is like breathing.
The King went to a crisis point in his life as he could not save his people/nation. During this troubled time, he did 4 things we need to do as a believer in Christ.
a) King Hezekiah went to the Presence of God. Look no further; run to Jesus.
b) We should be thankful for His mercy. We must proclaim His greatness.
c) We must pray with supreme confidence that He will answer our Prayers.
d) We must Pray because in answer to the Prayer, God is Glorified.