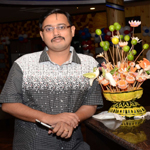 "Joseph – A life worth Living" by Mr. Sandeep Kumar (12th March, 2017)
Mr. Sandeep Kumar spoke from Genesis 50:15-26. His theme was "Story of Joseph – A life worth Living".
We need to look back and take that over the shoulder look to see the 4 seasons in his life:
1). Grounding of his belief in his season of Temptation
2). Guarantee of God's peace in his season of Pain
3). Generosity of his spirit in his season of Power
4). Assessment of his life during a climate of Contrariness.
May the Lord speak to your heart and make your life a Living example.