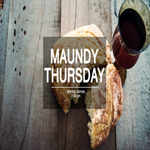 'JESUS came to Serve' by Rev. Songram Keshari Singh Passion Week (Maundy Thursday Worship), 09-04-2020
Today is Maundy Thursday. Let us continue on Jesus' journey to the Cross. Rev. Songram Keshari Singh is sharing God's Word tonight from John 13:1-11. The theme is 'JESUS came to Serve'. There are 3 things we see in the life of Jesus before going to the Cross. Preparation of the Lord's Table at the upper room; Prayer at Garden of Gethsemane and then his arrest. Only John's Gospel tells us about Jesus washing the feet of His disciples.
Here we see the great love, compassion of Jesus to His people; moreover we see the truth that Jesus came to Serve; not to be served.
Let us listen to God's Word and be blessed. After the message, we have the Holy Communion Service.