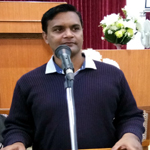 'Instructions in Prayer' by Mr. Ranjit Singh, (Prayer Week Day – 4), 10-01-19
Mr. Ranjit Singh preached on the 4th Day of the Prayer Week (7-12 January 2019) from Matthew 6:9-12, known as the Lord's Prayer. The theme of his message was 'Instructions in Prayer'.
a) Hallowed be your name
b) Your Kingdom come
c) Your will be done
d) Give us today our Daily Bread
e) Forgive…as we have also forgiven
It is very much necessary to forgive if there is anything against anyone before we come to the Lord in Prayer. We have to forgive because we have been forgiven; but, when we carry hatred in our heart and do not forgive, we do not receive answers to our prayers.
Let us have a heart of forgiveness before we come to the altar.